11. RESTORING TREASURES
MAKEOVERS !
Going to yard and garage sales is a hobby of mine.
This summer I picked up several broken figures and tried my hand at restoring them.
I didn't plan to put these on my website so I regret I don't have the "before" pictures.
I am pleased with the way they turned out.
Only the "after" pictures are shown, but I will give a discription on what I did to restore them. If you have a figure that has broken and has sentimental value, email me at tabemi@msn.com and maybe I can make your treasure look new again, or even better than the original! :)
Don't throw out your broken figures!
Let me make them like new again!
CLICK THE PHOTO TO ENLARGE !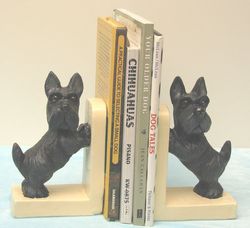 These little Scottie bookends had broken ears & chips on their feet.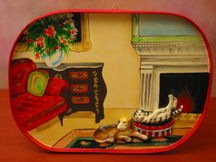 I restored the edges on the whimsical tray.
This 50 cents cow nows hangs high in my kitchen overlooking everything. I did a complete paper mache covering on this cow because it had so many cracks and nicks.
I added eyelashes too! :)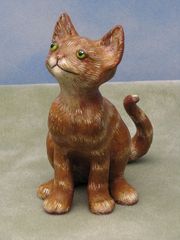 This little kitty had a tail and ear makeover plus a new color.